Who we are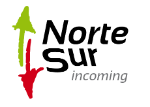 The Color of "arrantzales" (fishermen in Basque Country) usual clothing (dark blue) coincides with the backs of whales, with flashes of anchovy, and a color very Bilbao and the beginnings of Athletic, gave name to a Bilbao´scompany : Viajes Azul Marino (dark blue travel agency)
Born and installed in the center of Bilbao 30 years ago.
With extensive experience in the tourism sector through strengthened corporate structure, including "Marco Polo Club" specialized in international and aventure travels and "Nervion Travel", specialists in economic travels for groups and special outings. It is also a founding member and shareholder of Star Group, the commercial network of travel agencies most relevant, and since 2007, qualified with the Q Quality Tourism
Our Wholesale touroperator is launching an Incoming travel agency which will facilitate anywhere in the world to know one of the most beautiful countries of the world where people will be welcomed by their noble and kind people Azul Marino Viajes (Incoming Travel Agency in the Basque Country)
In Azul Marino Viajes, we offer:
All kind of transfers

, for groups or individuals, from the airport to a hotel, tours, private car with driver, luxury buses with all capacities
Accommodation. Agreements with hotel chains and hotels, country houses ... All options and categories.
Tours

and Excursions.

Full program of visits and excursions that can be complemented with a circuit "à la carte". From half-day visits to several days mini circuits marked by zones of interest.
Guides and tour leaders.

The best selection of local guides and tour leaders for your circuits.
Services à la carte. All services that can be required for special or remarkable
In Azul Marino Viajes, we have the mission of becoming the leading company in incoming tourist services for travelers that comes to the Basque country, offering them, efficiently, dutiful and resolute, with technological tools tailored to the needs of customers, with the best possible options and the best warranty.